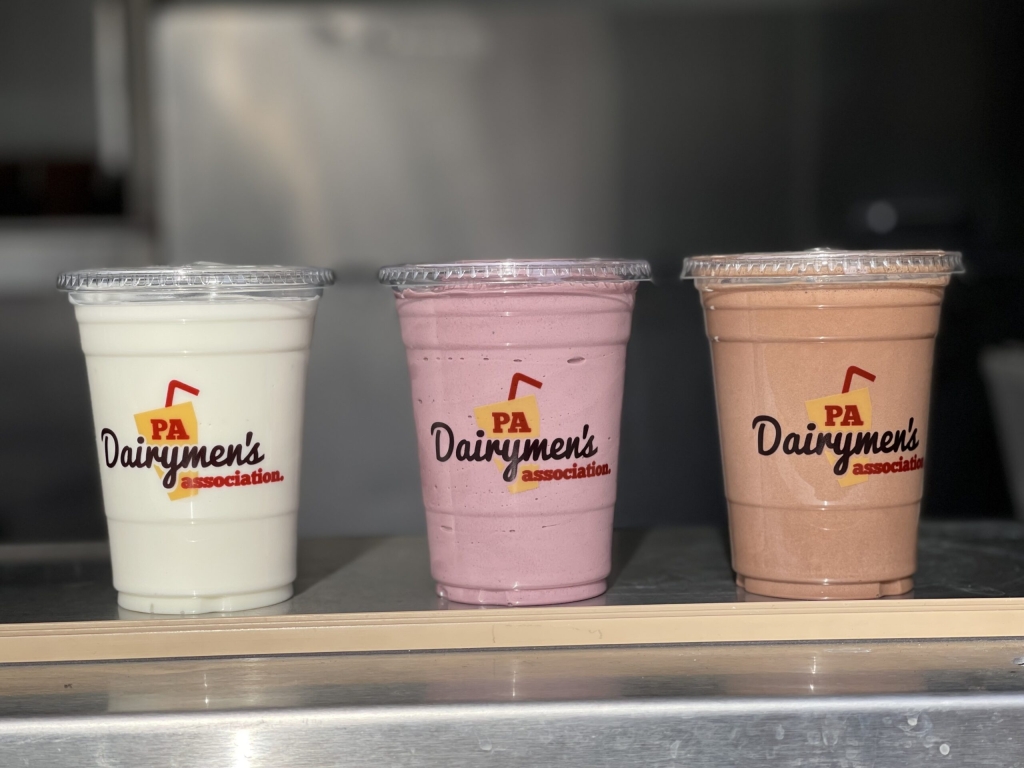 HARRISBURG, Pa. — The Pennsylvania Dairymen's Association, one of the state's leading advocates for dairy farmers, is thrilled to welcome back milkshake fans from across the country to the 2022 PA Farm Show from January 8-15, 2022 with a brand new, delicious and creamy black raspberry flavored milkshake that's sure to elicit plenty of #MilkshakeSmiles.
Black raspberry will be featured and added to those legen-DAIRY milkshake flavors, vanilla, chocolate and a mix ­­– some of the food court's most popular items. The food court opening will occur on January 7 at 12 p.m., noon when fans can enjoy the new black raspberry milkshake delights.
In addition, the Dairymen will offer:
Delicious golden-fried mozzarella cheese cubes served with marinara,
Scrumptious grilled cheese sandwiches and grilled cheese stix with a side of marinara,
Ice cream and ice cream sundaes, and
Fresh, locally produced Pennsylvania white and chocolate milk.
PA Dairymen's Executive Director Dave Smith says, "2022 will be an extra special time for all of us after missing an in-person Farm Show during the pandemic. To celebrate, we are ecstatic to offer a brand new delicious black raspberry flavored milkshake to welcome back our loyal milkshake fans.  We are proud to introduce this new flavor plus offer all of our other popular dairy delicious foods and beverages."
The sale of these sought-after PA Farm Show dairy treats allows the PA Dairymen's to support year-round philanthropic efforts.
Over the past four years, they have donated more than $1.4 million to programs including The Calving Corner; agricultural and educational projects; initiatives and scholarships; the Fill A Glass with Hope® fresh milk campaign for neighbors in need; the Choose PA Dairy consumer education and awareness campaign; the PA Farm Bureau Mobile Ag Education Lab that travels to schools; the PA Dairy Princess and Promotion Program and more!
OTHER 2022 Pennsylvania Dairy-related Farm Show Features Include:

Celebrity Milkshake Celebration and A Fill A Glass with Hope® Media Event, Friday, January 7, 11:00 a.m.

This event will help kick off this year's 2022 fresh milk campaign to feed the hungry with the PA Dairymen's Association, American Dairy Association North East, Feeding Pennsylvania, supporters, farmers, PA Dairy Royalty, food bank representatives, business leaders and others.

"Military Appreciation Day Thank You", Thursday, January 13.

The PA Dairymen's Association will offer a FREE milkshake to active military or veterans with proper ID on this day to honor them.

Calving Corner 2022 is returning with interactive, educational dairy learning stations and games.

This crowd favorite is going to be a full #DestinationDairyPA showcase complete with live births, adorable calves and cows, dairy farm families and a special partnership with The Whitaker Center to offer fun STEM activities for students and more. Students and families can participate in STEM activities in person at the Calving Corner on January 10 and 12 or join in virtually on the Calving Corner YouTube channel.
Follow the Calving Corner Facebook page for more details closer to the event.

Also located in the Northeast Hall is Destination Dairy Educational Learning Space.

Come meet Dairy Princesses from across Pennsylvania and check out new interactive displays as you learn more about milk, its journey from farm to table, the nutrition it provides and how it fuels and refuels the body for healthy growth and development. PA Dairy Royalty and PA Dairy Princesses will join #DestinationDairyPAand will lead children and families in fun, entertaining activities from The Calving Corner.