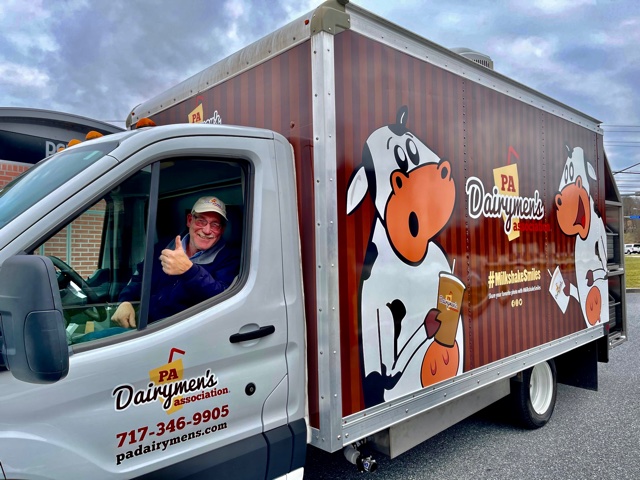 The Pennsylvania Dairymen's Association is excited to announce several new opportunities for our Milkshake fans.
NEW "Milkshakes on the Moo-ve" Food Truck
Join us on Friday, January 8 at 10:30 a.m. for our NEW "Milkshakes on the Moo-ve" food truck ribbon cutting ceremony at the Karns Foods Mechanicsburg location. We will be joined by our friends at the PA Co-Operative Potato Growers and their powdered-sugar potato donuts. The "Milkshakes on the Moo-ve" food truck will also be available on Saturday, January 9 and Sunday, January 10 at select Karns locations.
In an effort to honor our state's healthcare workers, the Pa. Dairymen's Association will be offering FREE milkshakes to hospital and nursing home healthcare heroes, with a valid ID. The free shakes will be available on Friday, January 8 and Saturday, January 9 ONLY.
"We're dairy-excited to be on the moo-ve bringing PA Dairymen's milkshake joy to central Pennsylvanians," said Dave Smith, Executive Director of Pennsylvania Dairymen's Association.
"While we are all heartbroken we can't gather at the PA Farm Show this year due to the pandemic, we are pleased to offer our delicious milkshakes via our NEW food truck. We remain grateful to the Karns family, Stauffers of Kissel Hill, and the area businesses and restaurants for supporting our state's dairy and agricultural industries, as well as all of our philanthropic endeavors."
Milkshakes on the Moo-ve" Food Truck Events
? Friday, January 8
NEW "Milkshakes on the Moo-ve" Food Truck Ribbon Cutting
Karns Foods**
4870 Carlisle Pike
Mechanicsburg, PA
Outdoor parking lot
11 a.m. — 3 p.m.
? Saturday, January 9
Karns Foods**
Paxton Square
6001 Allentown Boulevard
Harrisburg, PA
Outdoor parking lot
11 a.m. — 3 p.m.
? Sunday, January 10
Karns Foods
Paxton Square
1706 Spring Road
Carlisle, PA
Outdoor parking lot
11 a.m. — 3 p.m.
**Hospital and nursing home healthcare heroes will receive a FREE milkshake with valid ID. Friday and Saturday ONLY.
In addition, there are several dairy activities that milkshake fans can enjoy during the coming weeks.
Calving Corner 
Presented by Pennsylvania's dairy industry, and traditionally featured during the PA Farm Show, the Calving Corner is in its fourth year. This program was created to provide the public with a unique, behind-the-scenes look at Pennsylvania family dairy farms and offers an opportunity to learn more about how food is grown and where it comes from, in addition to watching the miracle of live birth of a dairy calf.
The Calving Corner is pleased to offer a virtual experience in 2021:
Tuesday, January 12
Bollinger family, a 4th generation dairy farm family
Live stream from Meadow Spring Farm in Lititz, Lancaster County
Starting at 10 a.m.
Tuesday, January 19
Hoover Family, Brook Corner Holsteins, Lebanon, PA.
Live stream
Starting at 10 a.m.
In addition, interactive STEM activities will be presented by educators from Whitaker Center for Science and the Arts.
Sign-up for text messages by texting calvingcorner to 833-985-1834.
Follow the "moos" on Twitter, Facebook, Instagram or YouTube. Learn more on the Calving Corner website.
Pennsylvania Dairy Princess and Promotion Services
The Pennsylvania Dairy Princesses will share recipes, cooking, crafts, farm visits, demonstrations and read stories on their Facebook page for families to follow along or try their dairy activities at home.
Information at their website or on Facebook.