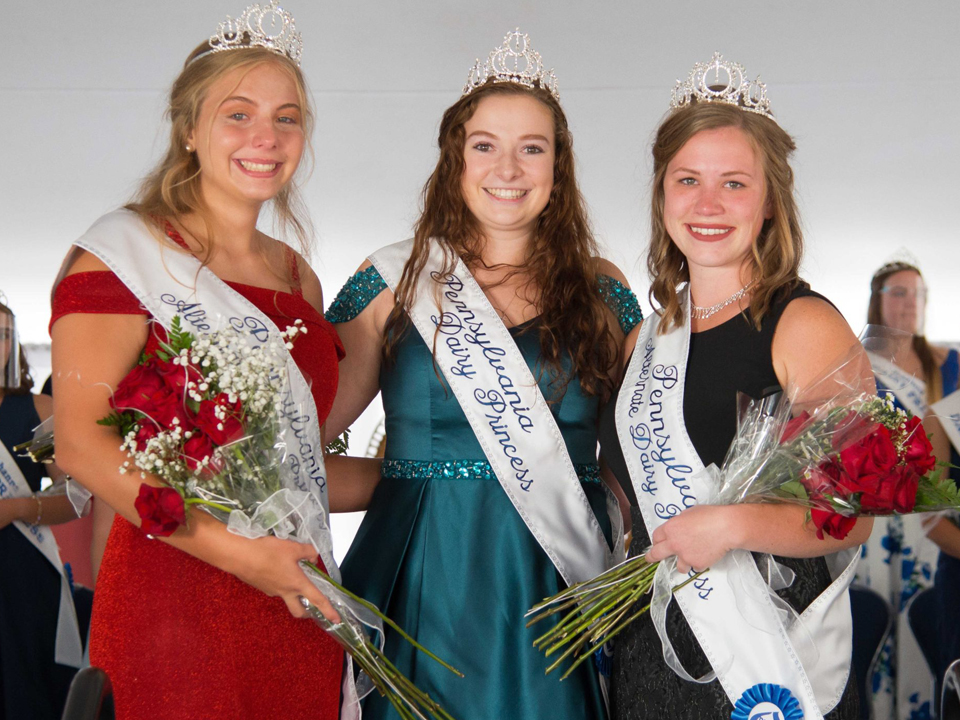 Each year, a state dairy princess and two alternates are chosen as the state royalty team at the annual state princess pageant.
The princesses are judged on public speaking, dairy industry knowledge, poise and personality. Each princess prepared a speech, presentation, radio spot and poster display promoting milk and dairy foods; submitted a scrapbook of promotion activities; took a dairy promotion knowledge quiz; submitted a dairy food recipe and participated in an interview with a panel of four judges.
Gabrielle Swavely
2020-21 Pennsylvania State Dairy Princess
Gabrielle is the 2020-2021 Pennsylvania Dairy princess. She is the 21 year old daughter of Steve and Jeanette Corl Swavely from Pennsylvania Furnace, Pennsylvania, which is located in Centre County. Gabrielle has one brother, Marshall and is currently enrolled at the Penn State University, intending to major in agricultural sciences.
In her free time, Gabrielle is an assistant majorette coach to the local baton and silk corp., the Nittany Dreamers. If she's not in her sash and crown or at practice, you can find Gabrielle at the Dreibelbis Dairy Farm LLC., where she helps milk cows and feed calves.
While Gabrielle did not grow up on a dairy farm, her mom's side of the family was passionate about farming and operated their own dairy farm that, at its max, milked about 40 cows.
"Some of my first memories were at that farm and I was saddened to see it sold when my great grandparents who owned it, passed away," says Gabrielle. "I decided I wanted to reignite the passion for the dairy industry I've had in me all of these years and got my job at the dairy farm and I haven't looked back since. Becoming a dairy princess has only amplified my voice for advocacy for the dairy farmers I represent."
Throughout her year as a dairy princess, Gabrielle's only goal is to show children who may never step foot on a farm, that they too play an important part in the dairy industry.
That even though they may be three to four generations removed from a farm, that they can be involved in the industry by supporting local dairy farmers, and advocating by choosing wholesome REAL dairy foods.
Katerina Coffman
2020-21 Pennsylvania Alternate Dairy Princess

Katerina Coffman is the 18- year- old daughter of TJ and Elaine Coffman of Petersburg, Pennsylvania. She grew up on her grandparents dairy farm, Tom-Glow Farms, where she fell in love with the dairy industry and the farmers who represent it.
"My grandparents instilled in me the value of hard work, the importance of love and laughter and most importantly that my words are powerful," says Katerina. "My nanny and pappy gave me a place on our farm which served as an outlet for a long period of my life. They are the reason I fell in love with the dairy industry. They are the reason, I am so emotionally invested in dairy related issues and so passionate about promoting in every setting I find myself in.
Katerina is employed on her family farm where she assists in milking, feeding, cleaning pens and providing medical care to the cows.
Her love of the dairy industry is a direct result of Katerina's experiences on the family's farm. She is serving as the Pennsylvania Alternate Dairy Princess.
"It is my humble privilege to advocate for the dairy industry and to encourage everyone to have their three servings of dairy every day," says Katerina. "It's my mission to promote the dairy industry with the same love and passion my grandparents instilled in me."
Kristin Johns
2020-21 Pennsylvania Alternate Dairy Princess
Kristin is serving as the 2020-2021 Pennsylvania Alternate Dairy Princess.
She is the 20-year-old daughter of Mark and Deb Johns. The family lives just outside of Bethel, Pennsylvania, in Berks County. Kristin enjoys raising show heifers and in 2018, graduated as a homeschooled student who took agriculture classes at Tulpehocken Jr/Sr High School.
Kristin works full-time as a cook at Dutch-Way Restaurant in Myerstown and part-time at Tulpa-Canal Farm in Womelsdorf. Although she has never lived on a farm, Kristin feels blessed to be born into a family that has deep roots in the dairy industry.
"I can't remember a time in my life where I didn't look forward to trips to Grandma and Grandpa's so I could pet the calves and say "hello" to the cows," says Kristin. "I loved every summer when my older siblings worked with their show strings and I could tag along to the farm and fairs. I could not wait to join in on the family showing tradition that began when my mom was a little girl."
Watching her grandfather, John Stump, live the life of farming he loved, inspired Kristin to pursue the same passion. After his passing, Kristin's mom continued to encourage her to follow in his footsteps. The dairy industry has formed Kristin into the person she is today.
"I view my dairy princess reign as a way to give back and say "thank you" for all the opportunities and experiences this industry has given me," says Kristin. "Ultimately, I want everyone to understand how truly pure and wholesome milk is, and that farmers devote their entire lives to taking care of cows they view and family and land they are honored to call home so that we can enjoy food on our tables."