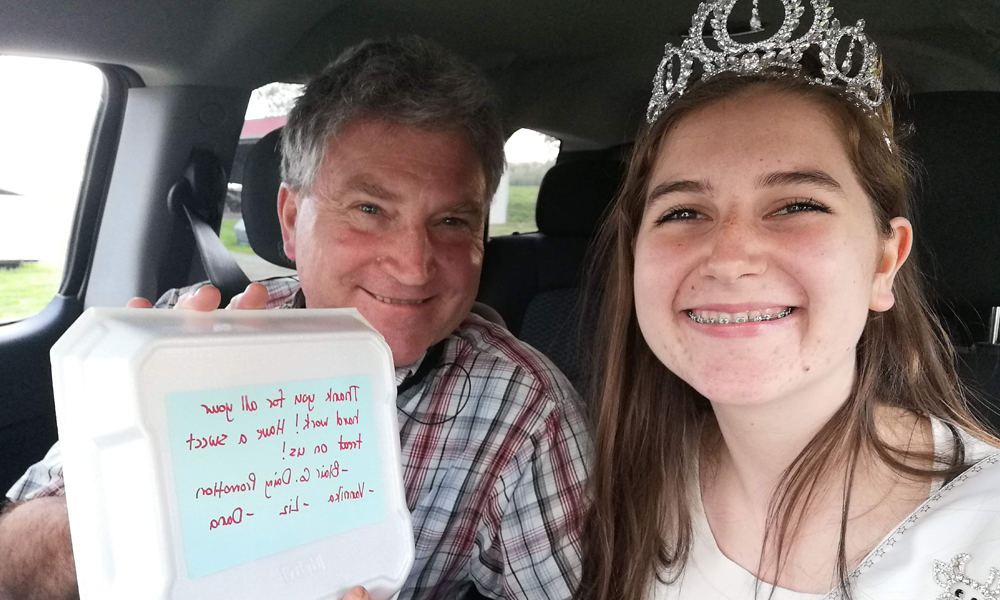 Guest blogger Vannika Rice is the 2019-2020 Pennsylvania State Alternate Dairy Princess
About a month or two ago, my dad was talking with one of our farming neighbors (a good six feet apart, of course). This neighbor said that for the first time in a long time, he had been called essential and really felt it.
I got to thinking about why it takes a pandemic to make people appreciate the food we eat and the people involved in its journey to our table. We often take for granted the fact we have nutritious food easily accessible to us in this country.
The food supply chain has been highlighted in the news lately with interruptions in meat and dairy processing plants and how that affects grocery stores' inventory. This has created more awareness of the extensive processes food embarks on before arriving at a grocery store. This is something people rarely think about in normal everyday life.
I decided to show my appreciation to my local essential dairy farmers by creating farmer care packages, full of homemade baked goods. They could enjoy these cookies with their own nutritious milk! Our Blair County Dairy Promotion team baked cookies, filled boxes, and hand-delivered the special treats. Altogether, we handed out around fifty boxes and I hope we brighten the days of those special dairy farmers.
You can show your appreciation by thanking dairy farmers and purchasing local dairy foods. You can ensure this by looking for a PA Preferred label or milk jugs with the plant code 42. You can also attend farmers' markets to buy directly from farmers, sign up for a CSA (community supported agriculture) to get those wonderful products, or buy from local small businesses.
Despite all the other struggles this pandemic is causing, I hope something good comes in the form of reflection. I hope we finally realize what and who is truly essential in our lives.
I know I am extremely grateful to farmers, everyone involved in food production, and all of you who consume our products. So, hold onto the good, like the delicious food filling our stomachs and the family that surrounds us (be it in person or on zoom). Even when this crisis is over, let's not forget that farmers are essential in our daily lives.