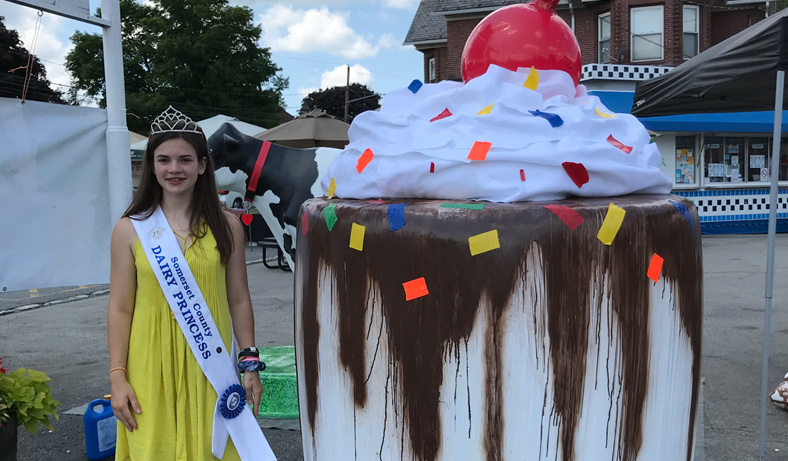 Guest blogger, Abigail Stoltzfus, is the 2019-2020 Somerset County Dairy Princess
The clocks have changed, and the days are longer. The sun is back, and warmer weather is on its way. That mean summer is around the corner, and my personal favorite, the delicious, creamy, first lick of ICE CREAM!
For me, the ice cream season starts in April, when the local ice cream shop, The Train Station opens. Growing up, driving past the shop had all five of my siblings begging my mom to stop for a taste of the sweet treat. With friendly employees, hundreds of options, and a caring boss, it was clear that would be a great place to work. In 2018, I started my job as a Train Station employee and look forward to opening day every year.
Did you know that ice cream has an entire month dedicated to it? July was declared National Ice Cream Month in 1984 to celebrate one of the best-selling treats in America. While my favorite is mint chocolate chip, the most popular ice cream flavor is vanilla. People love to top it with strawberries, chocolate syrup, and peanuts.
This delectable dessert is clearly one of the most popular dairy foods. Did you know dairy cows produce enough milk every day to make two gallons of ice cream? That's 730 gallons of ice cream every year! Yum. And just like all dairy foods, ice cream is filled with protein, potassium, vitamins A and D, and calcium to help our bodies grow strong.
Start summer a bit early this year and enjoy a big bowl (or cone) of ice cream. It's a delicious and easy way to make sure you get your three-a-day dairy every day.