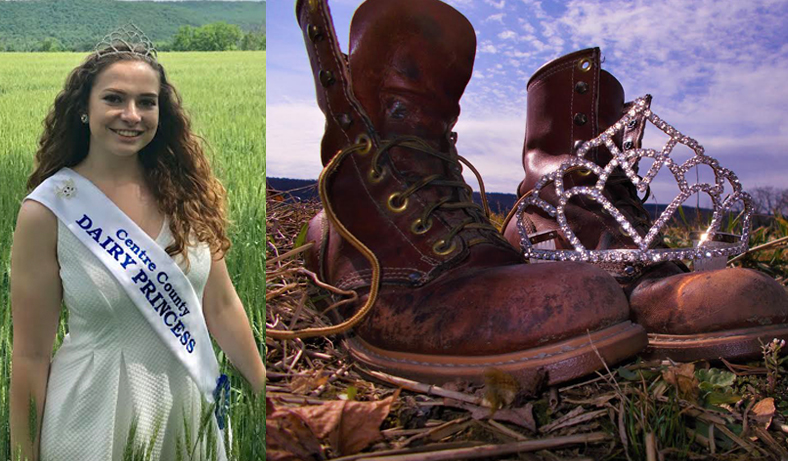 Guest blogger, Gabrielle Swavely is the 2018-2019 Centre County Dairy Princess
There's a pair of old Carolina work boots that sat in the back of my mom's closet for 27 years. They were retired in 1991, but still full of life. It was only a matter of time until my mom would clean out her closet and throw those old boots away, having no use for them anymore, until I came along. My mom was raised on a family farm but when my great grandparents, my mom's grandparents, passed away, the Corl Farm was sold to a local Amish family and my mom hung up her boots for good.
I always felt connected to my agricultural past, before my great grandparents' deaths, the entire family was very close. I advocated for the dairy industry whenever I could. But I wanted to do more, sharing Facebook posts and pictures can only reach so many people. After I graduated high school, I knew I wanted to take a gap year to work, save money for college and experience life.
That was when the opportunity to be the Centre County Dairy Princess came along. I was worried, how could I represent Centre County's hard-working dairy farmers? How could I do them any justice? So much had changed in the dairy industry, I felt under-qualified, but I wanted to expand my knowledge and learn more. I wanted to be more than just a social media warrior, and this was my chance.
I now work at the Dreibelbis Dairy Farm LLC where we milk an average of 110 cows twice a day. I get up at 4:00 a.m., throw on some clothes, lace up those old work boots and head to the farm. I start my morning by walking into the barn and turning on the local country music station (because cows give more milk to country music J) and then feed the bottle calves. After milking is over, I clean up the barn, sweep stalls and head home to shower before I leave to go into my second job. I have the best of both worlds, and I wouldn't have it any other way.
I grew up from the perspective of a dairy customer, picking up dairy foods without a second thought of where they came from, or who I was really supporting with my purchase. But now I see things from the eyes of the dairy farmer. I choose local dairy foods and talk to dairy customers on the impact their purchases make.
One of the most rewarding things I've done as the Centre County Dairy Princess is visit local elementary schools to talk to the next generation. Most of these children are three to four generations removed from a farm and might not have ever stepped foot on one. My goal going into each classroom is to show them that they don't need to grow up on a farm to appreciate and support the dairy farmers that give us so many amazingly delicious and equally nutritious dairy foods. I share my unique story in hopes of relating to the class because I didn't grow up on a farm but wanted to get involved and I show the class how they can too. I want to spark interest of dairy farming in the next generation.
Just as my work boots have been handed down to me, my love of the dairy industry has been handed down from my great grandparents. The passion to be an advocate for the industry that has given not only my family, but the families of many other Pennsylvanians so much has always been in my heart.
I only have my dairy princess title for one year but my job to tell the dairy farmer story to all that will listen is a lifelong commitment. My mom left some pretty big shoes for me to fill and if my boots could talk, I can only imagine the stories they'd tell from over the years. My mom stashed her boots away thinking her farming career was over, but mine is just beginning. So, walk a mile with me in my work boots.