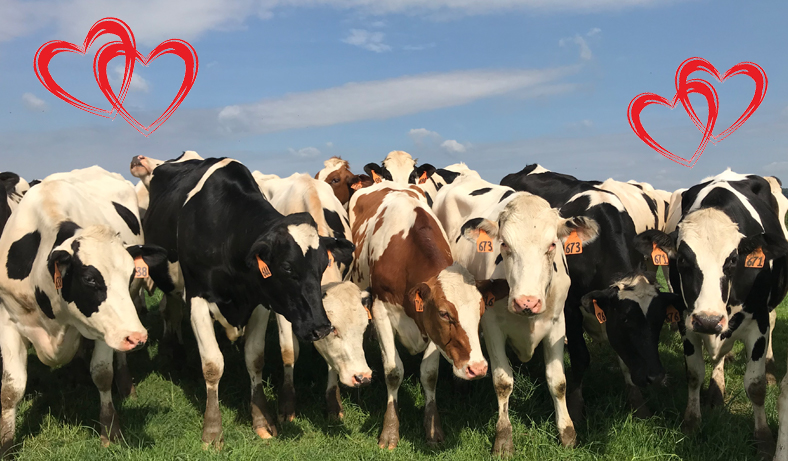 Red hearts and chocolate fill the store, love stories fill our news feeds, and special Valentine's menus are making their debut. There's really no avoiding it this time of year.
We just love seeing people in love, but we also want to use this month to show a little love to our dairy farmers who provide for us year around.
It all starts with caring for their cows. From the day a new calf is born, dairy farmers provide around-the-clock care to their cows. They provide shelter, soft straw bedding and special attention to make sure they are healthy. They are fed a nutritious meal and given plenty of water. When cows are quiet, content and chewing their cuds, dairy farmers know that the love and care they are giving cows is being received and reciprocated!
Dairy farmers also love their families! They care about their families just like we do and care about the food they eat. Therefore, they want to make sure the food they provide is safe – for their own families as well as yours! That's why they give special attention to their cows, their equipment and the milk they produce. When a cow gets sick, the dairy farmer provides medicine for it to heal.
The local community is also a great love of a dairy farmer. Not only do they contribute to the local economy just like any other business, but many provide farm tours and sell delicious local products right on the farm for you and your family to enjoy. Dairy farms are also job creators. From on-the-farm jobs to sales and transportation, dairy farmers provide their local community with plenty of work. They also act as a great resource for agricultural clubs and organizations, such as 4-H and FFA.
Lastly, dairy farmers love and care about the environment. Farmers know that they have been given a great responsibility in caring for their land and using it wisely. They take active measures to reduce waste and maximize resources. You can learn more about how dairy farmers care for their environment here.
Where would we be without dairy? We'd miss our morning nutrition, extra cheesy pizza on Friday nights, and of course our delicious milkshakes! Dairy farmers put a lot of care into getting us these safe, nutritious products every day. Let's give them a little love!