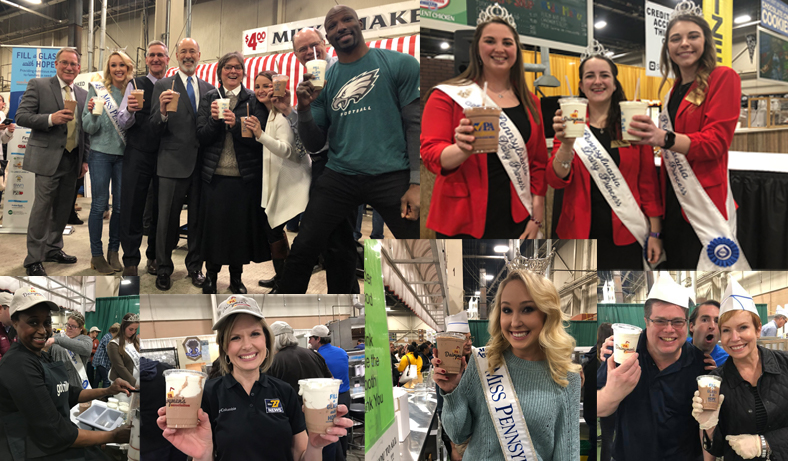 Did you know 1.6 million Pennsylvanians face hunger with nearly half a million of whom are children?
This January during the 103rd PA Farm Show, we kicked off the 2019 Fill a Glass with Hope campaign to continue providing fresh milk to families in need.
Governor Tom Wolf, First Lady Frances Wolf, Agriculture Secretary Russell Redding, NFL star Jason Avant, dairy industry leaders, Feeding PA food bank leaders, Miss PA Kayla Repasky, Pennsylvania dairy royalty, and American Dairy Association North East gathered to celebrate at the Pennsylvania Farm Show Complex and Expo Center.
Milk is one of the most requested items, according to Jane Clements-Smith, Feeding PA's executive director. Providing milk to food banks ensures that no child or family is denied access to nutritious food that supplies vitamins and minerals necessary for growth and learning.
"Feeding Pennsylvanians is a top priority of ours and Fill a Glass with Hope has allowed us to reach the most vulnerable individuals who deserve the benefits of our delicious, nutritious world-class milk," Dave Smith, executive director of PA Dairymen's Association, said.
We had a great time serving milkshakes with our Celebrity Milkshake Servers at Farm Show to raise awareness and resources for the program.
This program could not exist without its amazing sponsors as well as the 6,500 dairy farm families that provide for consumers, the hungry and the state's charitable food system.
FirstEnergy, Giant Food Stores and Weis Markets each contributed $25,000 to kick off the campaign. Additionally, the PA Dairy Princesses raised over $10,000 for Fill a Glass with Hope.
Fill a Glass with Hope was launched in 2015 and expanded in 2016 to become the first statewide charitable fresh milk distribution program in the country. Since then, it has provided more than 10 million servings of milk to families in need.