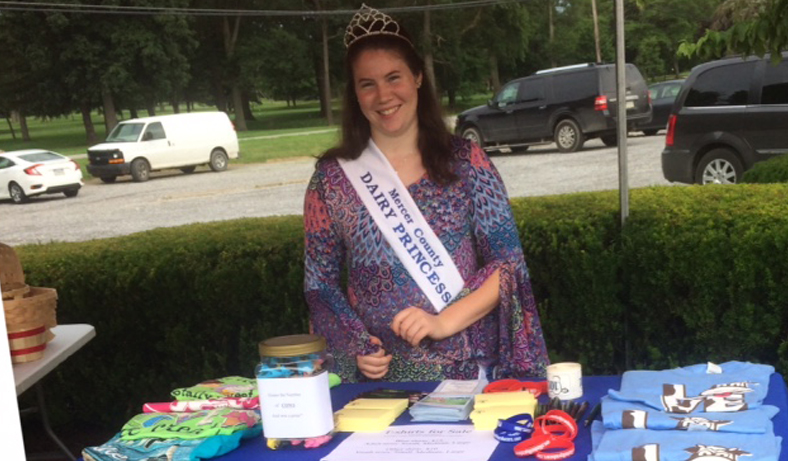 Guest blogger, Christa Ealy, is the 2018-2019 Mercer County Dairy Princess
This summer, the county fair is the place to be! There are many activities, games, food and fun. Don't forget to visit all the animals, especially the dairy cows and calves. As you walk through the barns, you'll have many opportunities to learn about dairy cows and where your milk and other dairy foods come from.
Talk to the dairy 4-Hers, FFA members and farmers. Feel free to ask questions about how they care for their animals at the fair, and what they do at home to get ready for the fair. Ask about how their show went; they are always excited to talk about the show and how they did. And always ask permission before you let children pet the animals, for safety's sake.
Fairs give local dairy farmers the chance to talk to you about the importance of their farms, dairy foods in your diet and the importance of local dairy products. It also gives farmers the opportunity to answer all kinds of questions you might have about milk and how it gets from the cow to your table.
While at the fair, you can support your local dairy farmers by picking up an order of fried cheese, ice cream or milkshakes. These dairy foods are delicious treats for you and your family!
Dairy foods like milk, cheese and yogurt are very healthy for you and should be a part of your daily diet! The 9 essential nutrients in milk are:
Calcium – helps build and maintain strong bones and healthy teeth.
Riboflavin – supports body growth and metabolism.
Phosphorus – strengthens bones.
Vitamin B – helps convert food to energy.
Vitamin D – is need for the absorption of calcium.
Potassium – helps maintain a normal blood pressure.
Vitamin A – promotes good vision and healthy skin.
Niacin – is for proper circulation.
Protein – supports muscle health and promotes healing.
The county fair is your opportunity to learn all you can about dairy farming. Dairy farmers enjoy talking with you and answering your questions.
So, during your next visit at the local fair, starting a conversation is as easy as saying, "Hi, can you tell me about your cow?" Have a great time at the fair!