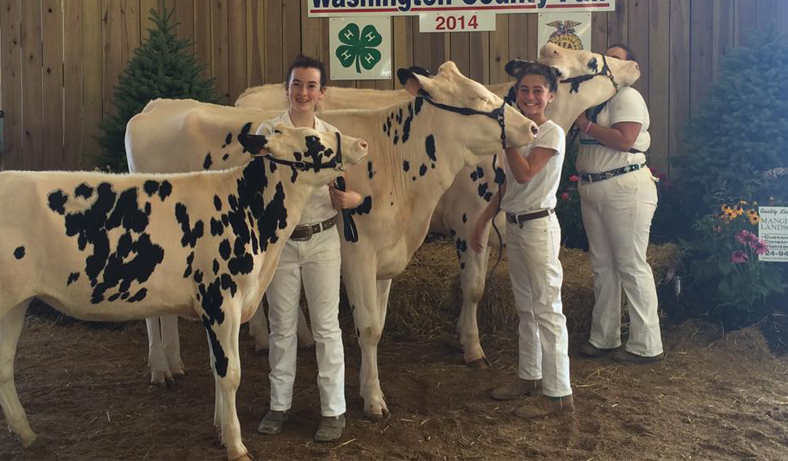 Guest blogger, Bridget McConn, is the 2018-2019 Washington County Dairy Princess
Summer in Pennsylvania means hot days, green, growing corn, and for ag kids, county fair! A week out of the summer that my family and I look forward to every year. A whole week spent at the local fair, seeing friends, exhibiting the projects that we worked so hard on and even enjoying some tasty fair food!
In the last six years, I went from being the sheep kid to the kid who only wanted to show dairy cows. Showing cows was something I had dreamed about as a little girl. One day, my mom was moving my dad's old trophies. I noticed some of the trophies had cows on top of them.
While I knew my family had a dairy farm in the past, I didn't know that my dad had showed dairy cows as well. Being the daddy's girl I am, I immediately wanted to do what dad did, show dairy cows at the county fair. I never thought it would happen until I got a job at a dairy farm.
The owners of the dairy farm helped me out by letting me show a dairy heifer at the county fair. From there, my show string grew until I was taking eight dairy cows to the fair each year! All while having the support of my family and bosses behind me.
Showing dairy cows became something I was very passionate about. It also changed my fair week. A different barn with new people and some great new memories.
This summer, like the summers before, you'll find me in the dairy cattle barn at the local county fair, happily caring for my dairy cows and soaking up each day of the fair. Or, maybe you'll find me at the dairy bar, drinking a milkshake! 🙂