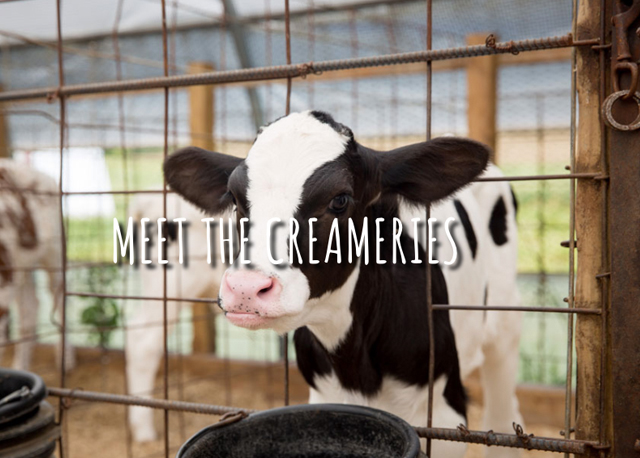 It's no secret that all of us here at the Dairymen's Association love ice cream – particularly when it's part of one of our delicious and famous milkshakes!
But, we never turn down a good, old-fashioned ice cream cone. Did you hear the news that the Pennsylvania Tourism Office, the  PA Department of Agriculture and the Center for Dairy Excellence teamed up to launch the new Pennsylvania Pursue Your Scoops Ice Cream Trail.
The new trail features 12 of the state's best cow-to-cone creameries, all of them on-farm so you can get the inside (and literal) scoop on fresh ice cream!
There's even a passport that you can download and use to keep track of all of your ice cream visits. If you complete six stops, you can receive a Pursue Your Scoops t-shirt and if you visit all 12 you will earn Pursue Your Scoops ice cream scooper. How cool (and delicious!) is that?!
Check out all of the participating creameries:
Coventry Parlor at Laurel Locks; Pottstown, PA
Patches Family Creamery; Lebanon, PA
Fox Meadows Creamery, Ephrata, PA
The Milkhouse at Oregon Dairy, Lititz, PA
Perrydell Farm Dairy, Inc., York, PA
Twilight Acres, LLC, Womelsdorf, PA
Chester Springs Creamery at Milky Way Farm, Chester Springs, PA
Crystal Spring Farm, Scnecksville, PA
Freddy Hill Farm, Lansdale, PA
Lapp Valley Farm, New Holland, PA
Merrymead Farm, Lansdale, PA
Way-Har Farms, Bernville, PA
So, on this last day of July and National Ice Cream month, we encourage you to get started on pursuing your scoops! Head over the to official #PursueYourScoops website to learn more, download your passport and then get ready to enjoy some of the most delicious ice cream in our state!