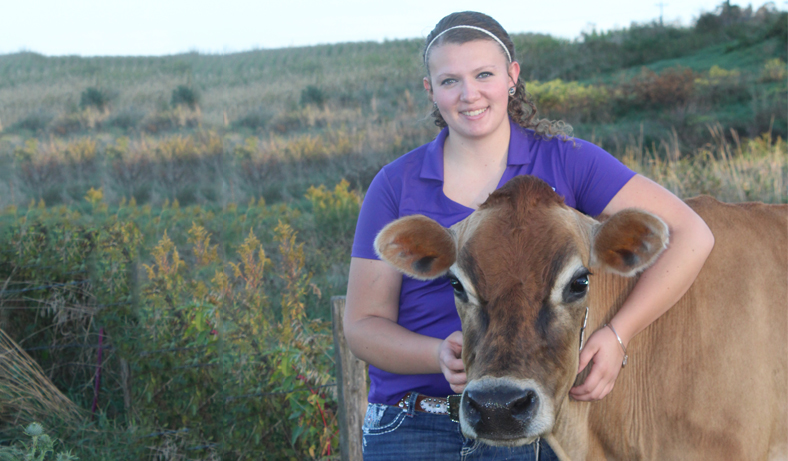 Guest blogger Emma Loch is the 2018-2019 Wyoming Lackawanna County Dairy Princess
Some kids are given a fish or a cat to take care of, but what if they had 20 dairy calves to feed and water? Just a typical responsibility for a dairy farm kid, and one job I still love on my family's dairy farm!
My brother, Brandon and I are fifth generation dairy farmers! And, I wouldn't have it any other way. Being the farmer's daughter has been given so many opportunities and helped instill a love for the land, the animals and family in me that guides me today.
Currently, I just completed my sophomore year at Delaware Valley University where I am majoring in dairy science. But, right this minute, I am probably milking cows or feeding calves on my family's dairy farm J!
When I was younger, I had more responsibilities than most kids. I was taught at a very young age how important it was to care for animals. It was my job to make sure the dairy calves were healthy, had fresh bedding and were getting proper amounts of milk until weaning. Looking back, I realize this was a huge responsibility, but my parents counted on me to help and I certainly did.
This summer while I am home from college, I've taken on the job of milking our dairy cows. Wow! I am now realizing how much work goes into making that gallon of milk sitting in your refrigerator.
Speaking of that gallon of milk – do you know if it is from a Pennsylvania dairy farm? There's a great new way you can be sure to Choose PA Dairy! Click here to find out how to tell if your milk is local (hint: look for the plant code 42 or choose milk with the PA Preferred logo).
As a farmer's daughter I know that the milk our family and yours drinks is wholesome, delicious and fresh (I also know the amount of work behind it too! :)) Won't you join us in keeping fresh milk flowing in Pennsylvania? Be sure to #ChoosePADairy