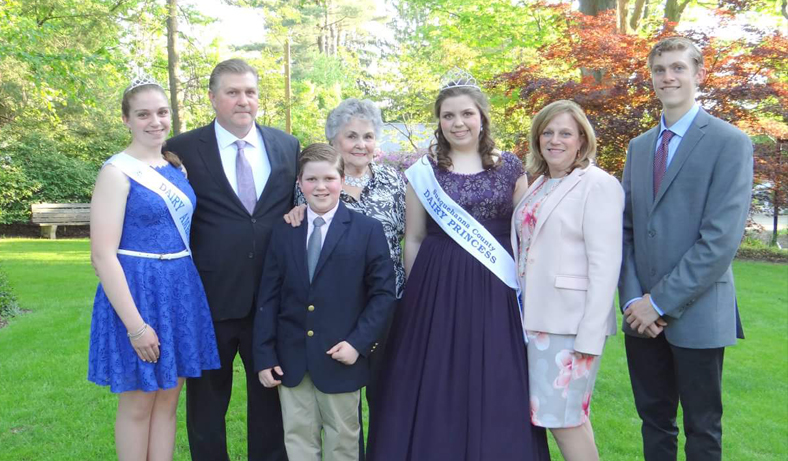 Guest blogger, Mary Catherine Chidester, is the 2018-2019 Susquehanna County Dairy Princess
Did you know that June is National Dairy Month? A whole month dedicated to celebrating the delicious and healthy foods provided to us by dairy farmers; as well as the important environmental contributions made by dairy farms.
I am the daughter, niece and granddaughter of passionate dairy farmers in Pennsylvania. Every day, my three siblings and I help on the farm. When I'm not in the barn, I play cello with the Marywood University String Project and share my family's love and passion of dairy farming as a dairy princess.
Dairy foods have many health benefits! Did you know that milk contains calcium, an essential nutrient that that is necessary to build strong bones? One eight-ounce glass of milk contains as much calcium as ten cups of raw spinach! The protein in milk is needed to help strengthen muscles, especially after exercising. Milk also contains potassium, phosphorous, riboflavin, niacin, vitamin A, vitamin B12 and vitamin D. Milk's health benefits are important to us all and are worth celebrating this June!     
The nutritional benefits of milk also translate to the different dairy foods such as cheese and yogurt. There are plenty of other dairy treats as well, such as butter, sour cream, whipped cream, and my personal favorite, ice cream!
Not to be overlooked, is the positive environmental impact that dairy farms have in their communities. Most dairy farmers live on or near the land they farm. Dairy farmers protect the air, land, soil and well-being of their environment not only because it is the right thing to do, but because their family and friends live there as well. Farmers reuse and recycle waste and water; follow strict environmental guidelines and mitigate the effect their cows have on the land. Now that is something we can all celebrate!
This June, enjoy an extra glass of milk and have several ice cream sundaes. After all, we're celebrating dairy farmers, the health benefits of dairy foods, the positive environmental impact of dairy farms and the great taste of milk, cheese, yogurt and ice cream!