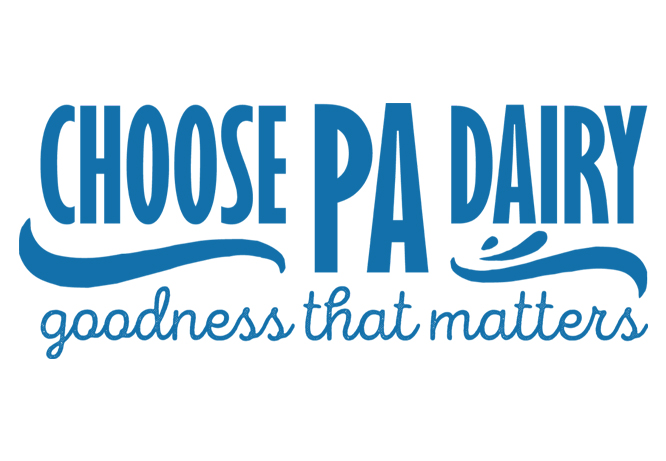 PA DAIRY LEADERS AND FARMERS PARTNER TO SUPPORT NEW "CHOOSE PA DAIRY" CAMPAIGN TO BOOST FRESH LOCAL MILK CONSUMPTION AND ENSURE PENNSYLVANIA MILK PRODUCTION
Campaign highlights health, community and economic benefits of PA Milk
Dairy Industry Supports More Than 52,000 Jobs and Contributes Nearly $15 Billion to PA Milk is Commonwealth's Official Beverage Boasting Nine Essential Nutrients
ALTOONA, Pa. – Pennsylvania's dairy leaders and farmers today supported PA Secretary of Agriculture Russell Redding in unveiling a statewide consumer-focused public awareness campaign, "Choose PA Dairy: Goodness That Matters," to highlight that Pennsylvania's dairy industry fuels strong bodies and strong communities by providing an abundant supply of fresh, wholesome milk and by supporting Pennsylvania's rural communities. With a rising interest in buying local and supporting family farms, the campaign reminds consumers that the choice is theirs and that Pennsylvania dairy, is "Goodness That Matters." Along with the Pennsylvania Department of Agriculture, the campaign is being championed by the Center for Dairy Excellence, the American Dairy Association North East, the Pennsylvania Dairymen's Association, the Pennsylvania Farm Bureau, Professional Dairy Managers of Pennsylvania, PA Dairy Princesses Program, and other industry organizations.
"For generations, Pennsylvania's dairy farms have been the backbone of our local communities, while providing delicious, fresh real milk to feed and nourish our families," said Jayne Sebright, executive director of The Center for Dairy Excellence at the campaign kick-off event held by the Pennsylvania Department of Agriculture at a Martin's Food Store in Altoona, Pa. "A new study has shown that Pennsylvania's dairy industry supports more than 52,000 jobs and contributes nearly $15 billion to our state and local communities annually. Martin's and Giant are just two examples of many retailers who offer Pennsylvania-produced milk. Choosing Pennsylvania Dairy is as easy as looking for the PA Preferred logo or for the number 42 at the front of the plant code when you buy milk at the grocery or convenience store or at your local farmers market."
The new "Choose PA Dairy: Goodness That Matters" campaign features statewide resources for consumers including a new website www.ChoosePADairy.com which showcases the state's dairy industry and the importance of the nutritional benefits of incorporating milk into one's daily diet, along with an informational map outlining where consumers can purchase fresh local milk in Pennsylvania. Consumers can visit the website to find the latest health and economic-related news about Pennsylvania dairy farms.
"If you purchase fresh milk, it's likely that the milk was produced on a farm within 100 miles of the plant where it was bottled," noted Dave Smith, executive director of the PA Dairymen's Association. "Your decision to purchase locally-sourced fresh, real milk ensures that our number one industry, agriculture, stands strong. With all of us joining together, Pennsylvania milk will continue to flow. Making a conscious decision to buy Pennsylvania local milk is an important choice you can make for your health and for the health of your community."
American Dairy Association North East CEO Rick Naczi added, "Milk delivers a powerhouse of nutrients in a convenient and affordable way. Each 8-ounce serving is packed with nine essential nutrients and eight grams of protein, providing the most nutrition for the lowest cost. With so many beverage choices, we encourage consumers to check product labels because there are no nutritional standards for non-dairy milks. Cow's milk, whether fat-free, low-fat, whole or lactose-free, will always provide the same naturally occurring nutrition package."
PROVEN HEALTH BENEFITS OF CONSUMING REAL MILK
Milk is the top source of calcium, vitamin D, and potassium in Americans' diets. Farm fresh, real dairy milk is naturally nutrient rich — which is difficult to match in most non-dairy milk alternatives. Milk's complete package of natural nutrition is backed by decades of research demonstrating milk's role in building strong muscles, a healthier immune system, stronger bones, and an overall healthier body.
DEMONSTRATED ECONOMIC IMPACT OF PA DAIRY
Pennsylvania is home to 6,500 dairy farm families, many of them are generational businesses supplying fresh, wholesome milk daily to the marketplace. Milk from these dairy farms can be found locally and in products sold worldwide. It is made into butter, ice cream, cheese, yogurt, and other dairy products or into dairy ingredients that are used in products like chocolate, snack foods, and baked goods made here in Pennsylvania. The state has the second largest number of dairy farms nationally, having more dairy farms than every other state except Wisconsin.
Our dairy industry is a powerhouse for job growth. Pennsylvania's dairy farm families are the backbone of many rural communities, supporting good-paying jobs, and generating valuable economic revenue.
• Every ten cows support one job somewhere in the Commonwealth.
• Every one cow generates more than $24,000 in annual economic revenue through direct and indirect sources.
• Pennsylvania's dairy-related enterprises support more than 52,000 jobs across the Commonwealth.
• PA Dairy generates $14.7 billion in annual economic revenue, according to the Pennsylvania Dairy Study released in 2017.
For more information, visit www.ChoosePADairy.com and follow all of the dairy partners on social media.
###