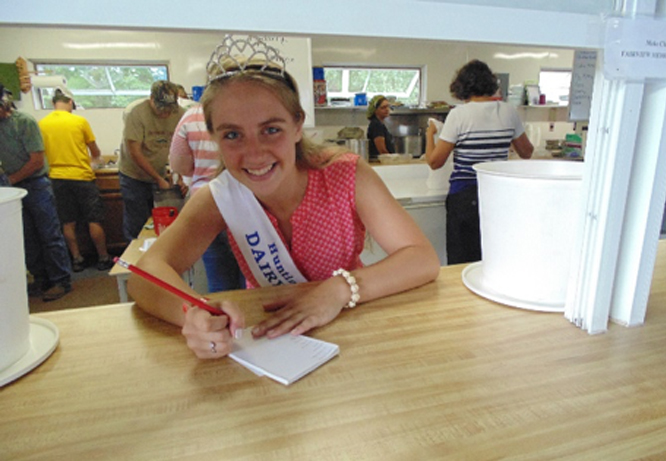 Guest blogger, Katrina Bliss, is the 2017-2018 Huntingdon County Dairy Princess
We all have childhood dreams. Some of these include becoming superheroes, star athletes or doctors. Sometimes, we dream of owning a big house, a pony or being the tallest person in our class. My childhood dream, along with becoming a vet and someday owning a giraffe, was to become a dairy princess.
I was only 10 years old when I was sitting in my older sister, Samantha's bedroom, casually perusing the county 4-H newsletter. We soon stumbled upon an advertisement for the Huntingdon County dairy promotion committee inviting us to their annual informational tea. Little did either of us know at the time, but that decision we made to join the committee would shape each of us in numerous ways.
After some slight persuasion, our parents finally agreed to let us join the dairy promotion committee even though we were already in many activities. Quite frankly, I had no idea what a dairy princess was, but I knew I someday wanted to be one.
Fast forward a couple of years, and my sister, Samantha was crowned dairy princess. I served that year as a dairy miss and travelled to almost every promotion throughout her reign, from 4-H meetings to senior citizen centers and school visits. Serving with my sister, I learned so much about not only the dairy industry we represented, but also what it meant to be a true dairy promoter.
Samantha passed on her title in 2012 and soon left central Pennsylvania for college in New York, but I remained as a dairy promoter for a bit longer. In May 2016, I decided it was my time to run for dairy princess. I rushed into it, quickly writing an essay and anxiously awaiting the pageant. I was so excited—maybe even a little too excited. However, I later found out that I wasn't truly ready for all of the responsibility. That year, I served as an alternate dairy princess but had an entire year of preparation and growth to prepare to run for the crown again.
Surprisingly, throughout that year, I would sometimes question whether I really wanted to try again to be the dairy princess. I wondered if I really was good enough. I had run once, and I hadn't won, so why try again? I wanted to move on with my life and put that obstacle behind me. When people asked if I was going to run again, I sometimes struggled to find the answer—if I was really being true to myself. Those little worries and self-doubts that we all experience from time to time were clouding my vision of my childhood dream.
My dad always says that you can achieve whatever you want as long as you are willing to work hard enough to get it. As the next pageant approached, my confidence in myself returned, and with my dad's advice in my heart, I knew I was ready for the title — and I was going to work as hard as I could to get it.
I was so happy when my hard work paid off, and I was crowned the 2017 Huntingdon county dairy princess! Little did I know that my work was just getting started.
The year has flown by. I've traveled thousands of miles, in various towns, to countless meetings, events and banquets, promoting Huntingdon County's dairy industry. Between balancing a full high school senior schedule, taking a semester-long class at a local college and working on our family farm, I've been running from promotion to promotion, making connections and growing as a dairy promoter and as a person.
It's only been in the past couple of months, though, that I have honestly discovered the importance of the role that I and numerous dairy princess share. First, I read an article. Then, I saw a local farm family, who I knew well, sell their herd. Later, I continued to see more farms saying goodbye to their loyal cows, with tears in their eyes. I heard it on the news. I saw it in agriculture publications. I even heard my school teachers talk about it in class. The industry that I am representing, the industry that is emblazoned on my sash that I wear at every promotion, was hurting.
That's when being a dairy princess became a more difficult job. Suddenly, I was faced with questions such as: "So, what's going on with all these dairy farms?" or "What are these farmers going to do?" or "Why aren't they doing anything about it?"
Suddenly, I found it hard to answer those questions from people in the grocery store. Not because I don't remember how many grams of protein are in a cup of yogurt, or because I am struggling to politely state the answer to a harsh question, but because inside, when I am asked about the current state of the dairy industry, I am feeling the emotions that many dairy farmers are feeling as well. My heart is breaking as I share the truth of the issue. I find it hard to tell the stories of dairy farms and dairy families that are struggling to make ends meet.
Although my reign as the Huntingdon County dairy princess will soon come to an end, I know that my role as a dairy promoter is just getting started. My sister now lives many states away, but she still represents the dairy industry at every given chance. My plans, too, include moving out of state next fall to attend college. I know that no matter where I end up, my roots will always be in agriculture.
From the day in my sister's bedroom learning about dairy promotion to the moment I decided I wanted to be a dairy princess, the dairy industry and dairy promotion has shaped my life and my future. I would not be who I am today without these experiences, and I am proud to represent an industry that gives young adults like me the opportunity to grow, learn and speak on the behalf of farmers.