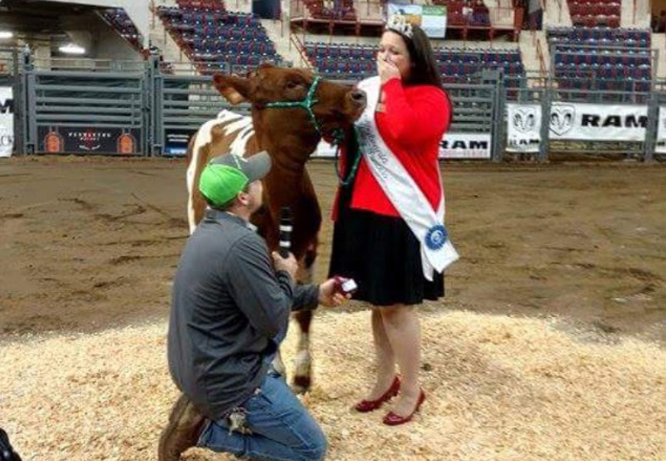 Guest blogger, Casandra Blickley, is the 2017-2018 Pennsylvania State Alternate Dairy Princess
Once upon a time. The opening phrase to so many great love stories. But, my own love story started in 2014 at a county fair dairy show! My once upon a time started at a cow show.
My name is Casandra Blickley, and I am the 2017-2018 Pennsylvania Alternate Dairy Princess. I was born and raised in a military family and moved seven times before I landed in Chester County, Pa. Little did I know my career in the dairy industry would take off, and I would meet the man of my dreams!
Several years ago, I started working at Kurtland Robotic Dairy Farm in Elverson, Pa., and now, I help manage the robot barn. Working on the dairy farm allowed me to participate in 4-H showing dairy cows. In 2014, I leased a heifer named Scribble from the farm ,and I took her to the local county fair. Isn't that how all love stories start?
The setting: late July at the Kimberton Fair in Chester County. As the Chester County Dairy Princess, I was working a dairy promotion at the fair while I also had my heifer, Scribble at the fair for the dairy cow show. Between promotions, I stopped by the barn to check-on Scribble and a guy with a big smile walked up to me and pointed at my heifer's name sign.
"Hey," he said. "I have the same birthday as your cow."
"I'm sorry," I replied. "I shouldn't talk to boys when I am in my sash and crown, so you will need to come back another day if you want to chat."
After that brief interaction, I thought I would never see him again. But, he came back, and day after day, he stood at ring side watching me hand out ribbons or show cows with the same big smile on his face. One day, I noticed that he was eating French fries and had a huge ketchup stain on his white shirt. Something about that clumsiness tugged at my heart, and at that moment, I knew he was someone special.
We started talking during the fair, first about my cows, and then on to our lives, our dreams and our hopes for the future. After the fair, Bob and I went on several dates and then began dating exclusively.
During one outing, Bob told me, "Casi Blickley, I am going to marry you one day."
Hearing those words at the age of 17 didn't mean much knowing that relationships among young people come and go. But, weeks turned into months, and months turned into years. One thing we continued to share was a love for dairy cows and a dream to own a dairy farm. In 2016, we bought a heifer, Perfection, and established Doodle-A-Long Farms. We now care for and raise 15 show heifers that we house at a small farm we rent.
When the 2018 Pa. Farm Show rolled around, Bob and I picked one of our heifers to take and showcase in the dairy show. She did very well and made us very proud.
On one of the last days of Farm Show, the state dairy princess team decided it would be fun to take photos with my heifer, Priceless. As we were finishing up, Bob hopped in for a photo.
About 15 seconds later, over the microphone in the large arena of the Farm Show complex I heard "Casi, will you marry me?" As I turned, I saw my forever best friend, my partner, my farmer and the man of my dreams down on one knee. And, I said YES!
Although all of our dates include early morning and late-night barn chores, feeding calves or fitting heifers for show, I wouldn't trade my dairy love story for any other. Dairy farming has become the biggest part of my life, and it is amazing to be able to share this dairy life with my best friend.  
I am so happy to be able to promote the dairy industry I love as your 2017-2018 Pa. Alternate Dairy Princess, and I'm beyond delighted that the dairy farming community has brought me my finance!
Check out the video of him proposing to me! <3