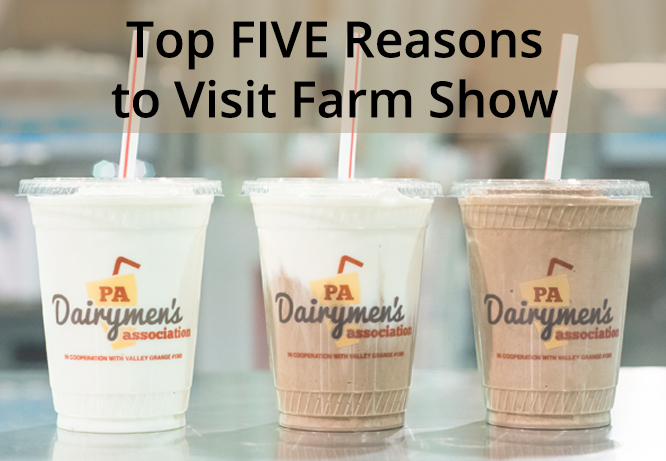 Not to be flippant, but our top five reasons to visit the PA Farm Show are always: 1. Dairymen's milkshakes 2. Dairymen's milkshakes 3. Dairymen's milkshakes 4. Dairymen's milkshakes 5. Dairymen's milkshakes. 🙂 
But, biases aside, there are many attractions and great foods at the 2018 PA Farm Show. Check out our list and let us know your top five favorites!
The New Calving Corner
An exciting new attraction at this year's Farm Show is the Calving Corner. You'll witness the miracle of birth from a dairy cow's perspective! Meet dairy farmers, ask questions, and learn more about the care farmers give their cows. Location: Northeast Hall.
Fun and Quirky Competitions
The PA Farm Show offers several unique and engaging competitions each day. A few of our favorites include: the celebrity cow milking contest, the sheep to shawl contest and tractor square dancing. Enjoy these quirky competitions all week long! Location: varies. See full schedule here.
Well, of Course, the Food!
Milkshakes, cheese cubes, potato donuts, mushroom burgers, maple ice cream…need we say more? The food is one of the main attractions each year at the PA Farm Show, and this year will not be an exception. Grab one of our famous shakes, and sip on it as you decide what other culinary treats to indulge in! Location: varies.
The Annual Butter Sculpture
Pennsylvania's best kept secret – the annual Butter Sculpture. What buttery masterpiece will be unveiled this year? No one knows! You're not going to want to miss the big unveiling. Location: Main Hall.
Youth Competitions
Let us not forget the true reason we have a Farm Show – agriculture and the youth that comprise it. Since the 1930s, a state-wide agricultural show has taken place at the Complex. Early shows were all farmer-focused with animal, fruit and vegetable competitions. These traditions continue with today's youth competitions such as the annual junior dairy show and other animal and family-living awards. Location: varies.