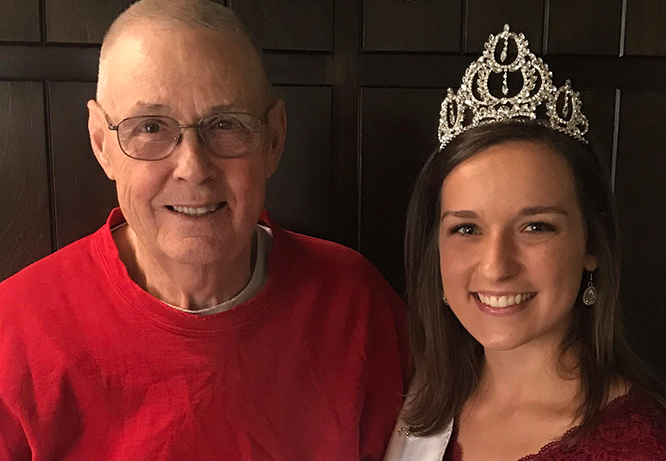 Guest blogger, Yvonne Longenecker, is the 2017-2018 Pennsylvania State Dairy Princess
Christmas is just around the corner. It's a time for family, friends and celebrating the holiday season. For most, it is a day off to relax and enjoy the holiday. But, dairy farmers cannot take a day off. Their farms operate 365 days a year so you can have food on your table three times a day, even Christmas day. Taking that into consideration, it is interesting to what has changed in Christmas past to today for dairy farmers.
I'd like to tell you about an older, lifelong dairy farmer, George Smith, that attends the same church as my family. His story starts back in the 1940s when he would wake up in the early morning hours of Christmas day on his family's dairy farm. He did not get to sleep in, and he did not run down the steps to open presents as soon as he woke up. Instead, he ran to the barn to get the work done for the day so he and his family could enjoy time together on Christmas. With his mother being one of nine in her family, they had a lot of visiting to do, so the work needed to be done quickly and early.
To prepare for Christmas day, George and his family would get all the extra chores done throughout the duration of the week so that only the essentials would need to be taken care of on Christmas. Once the milking, cleaning and feeding were finished, George was allowed to come inside and open presents. He recalls that each family member usually only had one or two presents to open and that they were usually clothes.
When George got older, he started his own farm and did everything by himself. Christmas was just like any other work day for him.
So, I asked him, "What do you think the difference in Christmas is for today's dairy farmers as compared to back then?"
"Hired help," he replied.
George went on to say that hired help really changed the way Christmas was celebrated for his farm family.
Employees helped to get the extra work done before Christmas day, alleviating some of the stress. When his son David eventually took over the farm, he continued the effort to have time-off to enjoy family and festivities, including time-off for employees to spend with their families.
George, now 80, is proud of his son and said, "My son, David, always takes time for his family and church."
Times have certainly changed for dairy farmers with the advancement in technology and the increase of hired help, but one thing hasn't changed; they still have to get up early to get the work done on Christmas. It's not like the cows know what holiday it is and say "Okay, I won't produce milk, eat or make a mess in the barn today so my farmer can have Christmas day off." Cows have a schedule that cannot be put off for a day or even an hour.
On my family's farm, we give the full-time milkers and other workers time off so they can enjoy time with their family and friends. But, that means that we have to fill-in for them. Cows on our farm are milked three times a day. This can't be changed just because it's a holiday; otherwise, we would have some unhappy, uncomfortable cows. My sisters, cousins and I each take either the middle-of-the-day milking or the evening milking.
This year, my family will take the second milking shift from 9:00 a.m. to 3:00 p.m. We will wake up on Christmas morning, open presents, eat our traditional Christmas French Toast Casserole, then head-out to milk the cows before coming home to spend the rest of the day with family.
Dairy farmers value the same things as their neighbors: family, faith and time together. In addition, they love their cows and their community and are proud to produce the dairy foods you enjoy on Christmas day and every day. So, this Christmas, remember the hands and the hooves that work hard to provide the glass of milk you pour for Santa on Christmas Eve!
Want to try our family's traditional Christmas French Toast Casserole breakfast? The recipe is below – enjoy and Merry Christmas!
French Toast Casserole
1 loaf Italian bread
8 ounces cream chees
½ cup sugar (divided)
½ teaspoon vanilla
½ cup pecans- chopped
4 eggs
2 cups milk
1 teaspoon cinnamon
2 tablespoons melted butter
Place ½ the bread cubes in a glass 9 x 13 casserole dish that has been greased. Melt cream cheese (carefully) in microwave. Stir several times. This takes about two minutes. Stir in ¼ cup of sugar and the vanilla. Pour this mixture over the first layer of bread cubes. It will not completely cover all the bread. Sprinkle with the pecans. Top with remaining bread cubes. Beat together ¼ cup of sugar, eggs, milk, cinnamon and melted butter. Pour over bread cubes. Cover and refrigerate overnight. Remove cover and bake at 350 degrees for 35 minutes or until light brown. Let set 5 minutes before cutting. Serve with syrup or fruit topping.