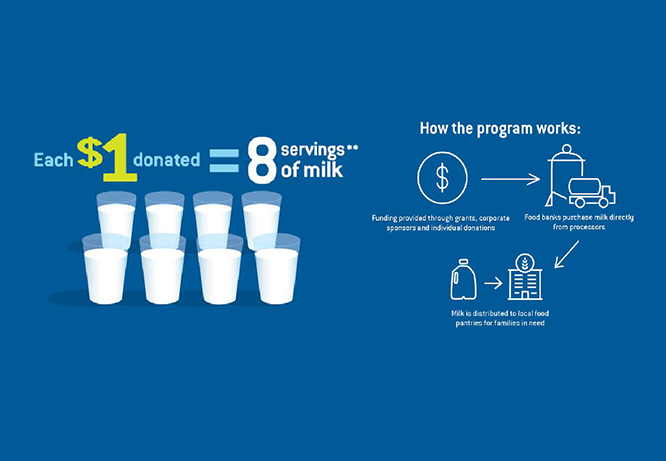 Did you know that fresh milk is one of the most request items at food banks but that access to it is limited? When Pennsylvania dairy farmers learned this, they immediately set to work, forming partnerships that would put milk into food banks and ensure that their neighbors in need were able to receive nutritious fresh milk. The Fill a Glass with Hope® program was born.

The founding organizations: Pennsylvania Dairymen's Association, the Pennsylvania Department of Agriculture and the now American Dairy Association Northeast joined with the Central Pennsylvania Food Bank to launch this valuable program in January 2015.
Through generous donations from valuable partners and from people just like you, Fill a Glass with Hope® was able to get fresh milk to food banks in central Pennsylvania. As the program grew, the goal became to emulate the success across the state of Pennsylvania. In 2016, Feeding Pennsylvania was brought on board, and Fill a Glass with Hope® became the first-ever statewide charitable milk program.
Fresh milk remains one of the most requested items at food banks, yet it is rarely donated. The Fill a Glass with Hope® program is changing that by raising awareness and connecting food banks with local milk suppliers and providing a means for food banks to purchase milk for the families they serve.
Since launching in 2015, Fill a Glass with Hope® has raised more than $500,000* for Feeding Pennsylvania food banks to purchase milk! Every dollar counts! Make a donation today at Feeding Pennsylvania's website.
*Total amount of funds raised as of December 2016.