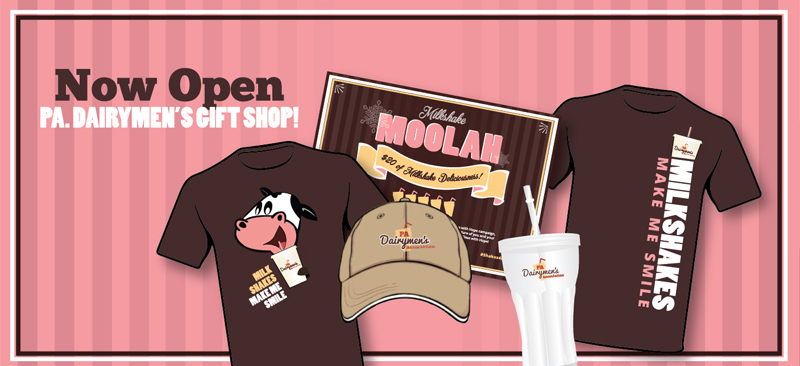 Deck the halls with boughs of holly and rock around the Christmas tree.
The holiday season is upon us, you see!
With mistletoe hung and candy galore,
Wreaths and stockings fill every store.
But, what is one thing you can't find in the aisles?
Our milkshakes and products that will bring your family smiles!
So, head over to our e-store and find a gift they'll adore.
Still not convinced? Here are four reasons why.

1. You want to support a good cause.
The holiday season is all about giving back. We're proud to partner with the Feeding Pennsylvania to Fill A Glass With Hope. For each item purchased, we will donate $1 to the Fill A Glass With Hope campaign to provide fresh milk for those in need.

2. You love Pa. Dairymen's milkshakes.
What better reason do you need?

3. You want to look awesome at the 2017 Farm Show.
Be a trendsetter at the Farm Show with our "Milkshakes Make Me Smile" t-shirt. Buy one for the kids, for your spouse – the whole family will be in style!
4. You're stumped on gift-buying ideas.
A gift card is the perfect gift for the person who tells you, "Oh, I don't need anything!" when you ask what they'd like for Christmas. You know they love our milkshakes. You know they love Farm Show. Put a #MilkshakeSmile on their face with some Milkshake Moolah they can use to buy Pa. Dairymen's milkshakes at Farm Show!
We love to put a smile on your face with our milkshakes, and we didn't forget that mission as we created these products. Spread the smiles with your loved ones this Christmas season with one of our products that were designed to put a #MilkshakeSmile on your face.